Children (2-12 years):
Spray once into each nostril, 1-2 times a day for a period not exceeding 30 days.
Adults:
Spray once or twice into each nostril, 3-5 times daily for a period not exceeding 30 days.
This product is not suitable for children under 2 years old.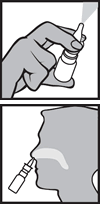 Holding the bottle upright, remove the plastic cap and insert the nozzle into the nostril.Depress the pump by placing the fingers on either side of the nozzle.
Note: It may be necessary to prime the pump before use by depressing the spray mechanism once or twice until a fine spray appears.
Sinuforce Dry Nose Nasal Spray can be used for a maximum of 30 days.
Use within 12 weeks of opening.